Posts for: December, 2020
By W. Robert Howarth, DDS, FASD, Family and Sports Dentistry
December 20, 2020
During this time of year, many of us dust off traditional family recipes and make our favorite holiday treats. There is, however, a small price to pay for all that nostalgic goodness in the shape of a few extra pounds to deal with in the new year. We may also be increasing the risk for something even more unpleasant: tooth decay.
The main cause, of course, is a certain carbohydrate integral to many holiday goodies: sugar.  We humans love it, but so do oral bacteria that readily devour any sugar lingering in our mouth after eating. This fuels bacterial reproduction, which in turn increases the production of acid that softens tooth enamel.
There are a number of strategies you can follow to reduce this effect. You can remove sugar completely from your holiday preparations—and risk family and friends "voting you off the island." Or, you can try these tips for easing the impact of holiday sugar on your dental health.
Look for ways to reduce sugar. Just because you're not throwing the sugar bowl out the window doesn't mean you have to go all out using it. Instead, try to modify older recipes (or look for newer versions) to decrease the amount of sugar in candies and baked goods. You may also consider alternative sweeteners like sucralose that tolerate high baking temperatures.
Balance savory with sweet. Not all holiday treats need to be sweet—you can add items that take advantage of more savory seasonings. For example, try offering up popcorn with a sprinkling of cinnamon or other holiday spice, or a creative assortment of cheeses (which in turn promote saliva flow to neutralize acid).
Combine treats with mealtimes. Continuous snacking may be part of the holiday tradition, but it can also raise the risk for tooth decay. Acidity increases when we eat, but saliva normally neutralizes it within thirty minutes to an hour. However, saliva can get overwhelmed during continuous snacking, resulting in longer periods of high acidity that damages tooth enamel. Instead, try to combine snack times with mealtimes.
Don't neglect your oral hygiene. Even though things can get hectic during the holidays, make a point of keeping up daily brushing and flossing. Regular hygiene keeps dental plaque, a thin film of harmful bacteria and food particles (including sugar), from building up on your teeth. Reducing plaque lowers your overall decay risk. Attention to oral health through your day-to-day dental hygiene routine along with regular professional cleanings and checkups is the best thing you can do to avoid dental disease.
The holidays should be a joyous time for you and your family. They can also be a healthy time for your teeth and gums, if you minimize the role of sugar in your holiday treats.
If you would like more information about boosting your dental health, please contact us or schedule a consultation. To learn more, read the Dear Doctor magazine articles "Nutrition & Oral Health" and "The Bitter Truth About Sugar."
By W. Robert Howarth, DDS, FASD, Family and Sports Dentistry
December 09, 2020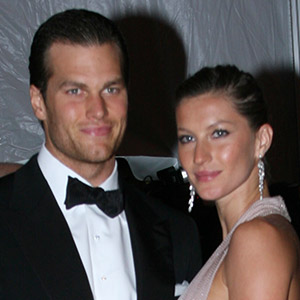 Love at first sight—it's an endearing notion found in movies and novels, but perhaps we're a little skeptical about it happening in real life. Then again, maybe it does once in a blue moon.  According to supermodel Gisele Bündchen, something definitely happened the first time she met pro quarterback Tom Brady in 2006. And it all began when he smiled.
"The moment I saw him, he smiled and I was like, 'That is the most beautiful, charismatic smile I've ever seen!'" Bündchen said in an article for Vogue magazine. That was all it took. After a three-year romance, they married in 2009 and have been happily so ever since.
Both Brady and Bündchen have great smiles. But they also know even the most naturally attractive smile occasionally needs a little help. Here are three things our happy couple have done to keep their smiles beautiful—and you could do the same.
Teeth whitening. Bündchen is a big proponent of brightening your smile, even endorsing a line of whitening products at one point. And for good reason: This relatively inexpensive and non-invasive procedure can turn a dull, lackluster smile into a dazzling head-turner. A professional whitening can give you the safest, longest-lasting results. We can also fine-tune the whitening solution to give you just the level of brightness you want.
Teeth straightening. When Bündchen noticed one of her teeth out of normal alignment, she underwent orthodontic treatment to straighten her smile. Rather than traditional braces, she opted for clear aligners, removable trays made of translucent plastic. Effective on many types of orthodontic problems, clear aligners can straighten teeth while hardly being noticed by anyone else.
Smile repair. Brady is a frequent client of cosmetic dentistry, sometimes due to his day job. During 2015's Super Bowl XLIX against the Seattle Seahawks, Brady chipped a tooth, ironically from "head-butting" his Patriots teammate Brandon LaFell after the latter caught a touchdown pass. Fortunately, he's had this and other defects repaired—and so can you. We can restore teeth as good as new with composite resin bonding, veneers or crowns.
This superstar couple, known for their advocacy of all things healthy, would also tell you a beautiful smile is a healthy one. You can help maintain your smile's attractiveness with daily brushing and flossing to lower the risk of staining and dental disease, regular dental visits, and "tooth-friendly" eating habits.
And when your teeth need a little extra TLC, see us for a full evaluation. You may not be in the spotlight like this celebrity couple, but you can still have a beautiful smile just like theirs.
If you would like more information on ways to enhance your smile, please contact us or schedule a consultation.